When deciding on the right size off-road tires, consider the vehicle, its limitations, manufacturer recommendations for tire size, whether body adjustments may be necessary, and the type of off-roading you intend to do. Consulting your owner's manual to see what tire size will fit is helpful, but it doesn't always explain which size is best for your needs. If you aren't sure about the type and size off-road tires you need, check out our Tameron CDJR off-road tire size guide.
Why Get Off-road Tires?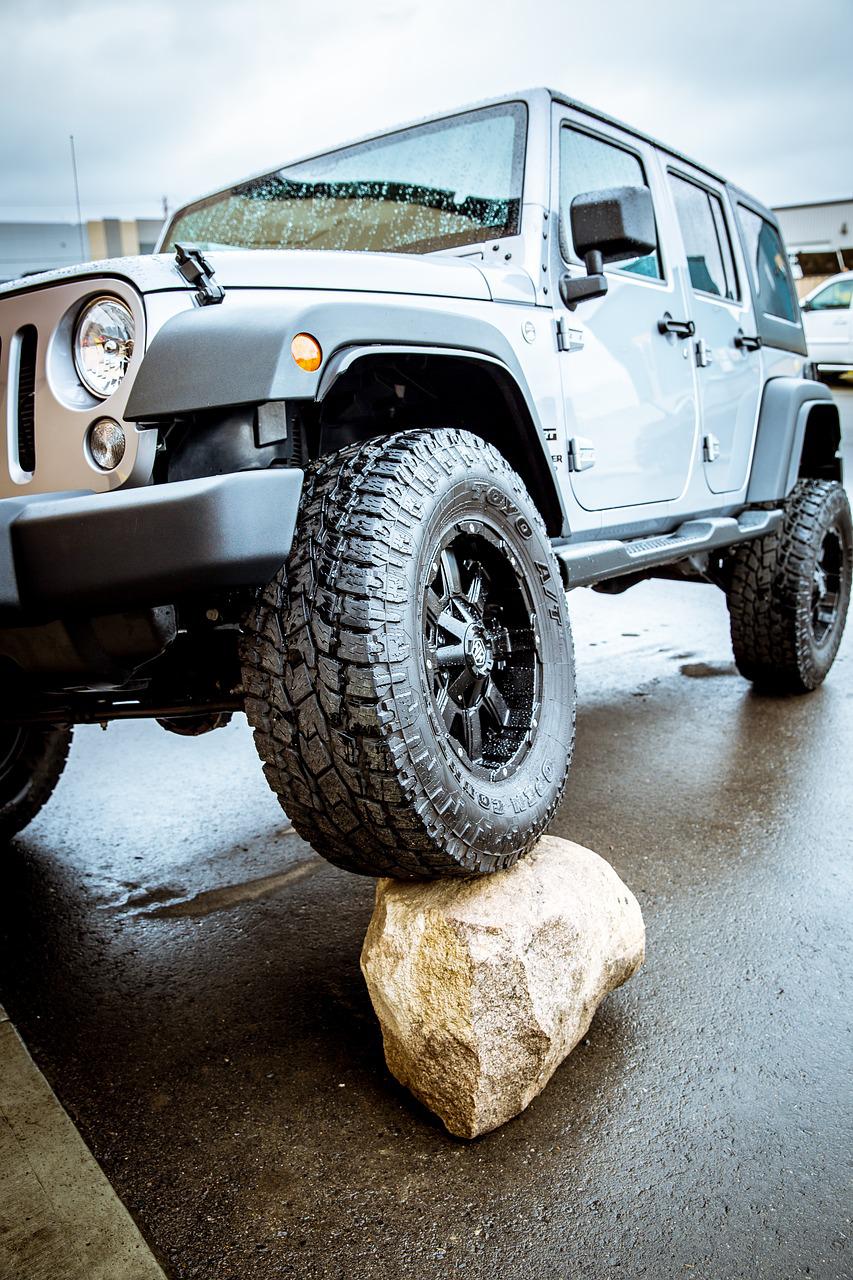 Off-road tires have blocky, heavy-duty tread patterns and puncture-resistant sidewalls to endure rock pounding or other rough treatment. They also have treads designed for higher traction in mud or soft and wet debris. Off-road tires might be the difference between retaining traction in challenging circumstances and spending hours attempting to get your vehicle unstuck.
Some drivers might avoid getting off-road tires in order to maintain the highest possible fuel economy. While it is true that tires designed for pavement specifically will turn out the best performance on the pavement, the difference is negligible.
Starting Point for Off-road Tire Sizes
Before choosing your off-road tires, look up your make and model to see what sizes are compatible with your vehicle, then you can simply choose an off-road tire with the specs and appearance you like. Or here's a simple rule of thumb you can use as a guide: the tire's height should be roughly half the wheel diameter. Following such a rule, either 15- or 16-inch off-road tires will work on a vehicle with a 33-inch wheel diameter, and for 36-inch wheel diameter, you could get tires closer to 18 inches.
Are Off-road Tires Necessary for Off-roading?
Although getting stuck isn't guaranteed, it's a bit risky to drive off the pavement with tires not suited for the task. Only off-road tires have what it takes to effectively move a vehicle over mud, rocks, logs, wet leaf litter, and other unpredictable obstacles.
The main advantages of off-road tires over traditional tires are:
Off-road tires are thicker and more durable, especially in the sidewalls, to absorb impacts from any direction.

Off-road tires use more dramatic tread patterns that encourage traction, which provide greater protection against mud, rainwater, and other things you might face, on or off the streets.

Off-road tires look cool and sometimes come in a variety of visual styles.
If you want to be safe from off-road hazards and avoid any annoying mishaps on the trail, don't take your vehicle off the pavement unless it's off-road-ready. Put simply, an off-roading vehicle needs off-roading tires.
Can You Use Low-profile Tires for Off-roading?
A low-profile tire refers to an all-season, competition, summer, or high-performance tire designed to fit on a wider than usual rim diameter, which leads to a shorter sidewall. Low-profile tires are designed for street performance, so they're not ideally suited to off-roading. There's less sidewall material vertically and in terms of thickness. Instead of durability or lower-gear traction, sporty track driving is the focus.
One of the most important benefits of off-roading tires is that the sidewall flex is strong and the treads generate traction easily against uncertain surfaces. Try not to take low-profile tires off the pavement since they could get stuck on slippery ground.
What Is the Best Size Off-road Tire?
The best size off-road tire depends on your vehicle and the kind of off-roading you want to do. The simple logic is to get tires that are as big as you can get them, but different authorities on the matter will give their takes.
The advantages of going bigger, maybe as big as your manufacturer allows, are:
Larger tires have more surface area against the ground, increasing off-road performance.

Larger tire sizes lift and help protect a car or truck's undercarriage from splashing mud, rocks, and more.

Large tires look confident and can complete your vehicle's image.
Sticking to more moderate wheel sizes, or slightly smaller, also provides three main advantages:
Smaller tires have less mass to move and thus increase high-speed fuel efficiency.

Small tires are quieter in daily on-road driving and are slightly quicker to accelerate.

Small tires can help achieve a suave, low-riding look.
Most people will find somewhere between the biggest and smallest possible size that appeals to them visually and suits how they drive. Keep in mind that some sizes will require a body lift kit. Vehicle user manuals usually contain charts that outline the threshold of tire size that would require a lift.
What Size of Off-Road Tire Do I Need?
The vehicle manufacturer can provide reliable information on tire clearance, either through the owner's manual or by asking a local Alabama dealership.
If you install a lift kit, you'll gain a couple of inches of clearance, and the specific amount of gain varies depending on the suspension type and configuration of the vehicle. The manufacturer of the kit will have information as well. Internet discussion sites are an excellent tool for assessing other automobile owners' experiences and advice on the topic. As long as you follow manufacturer specifications and common sense, you should be able to narrow down your options to a few tire sizes that can provide you with enough traction for your off-roading adventures while still fitting properly.
Are Off-road, All-terrain, and Mud Tires the Same?
Off-road tires can be split into two general types: all-terrain and mud. All-terrain tires are flexible in most conditions, a kind of all-purpose tire that allows for good off-roading, while mud tires are more heavily suited to off-roading, especially through rocks, sand, and mud, but are heavier and not quite as efficient. Unless you're mainly driving off-road, especially in the dirt, all-terrain tires will serve just fine.
Getting newer tires in a better style and size for your needs is one of the easiest and most affordable ways to level up your car, truck, or SUV. Check out our parts department for any questions about tires and getting a lift for your CDJR or Fiat vehicle.