From routine care, to tending to malfunctions, or damage from accidents, knowing who to take your vehicle to when it needs service is valuable information as a car owner. Here at Tameron Chrysler Dodge Jeep Ram Fiat, we're proud of the caliber of work done at our service center and are ready to help you the next time your vehicle needs professional care. Schedule an appointment or give us a call today!
The service professionals at Tameron Chrysler Dodge Jeep Ram Fiat take pride in being Daphne, Alabama's, number one auto service center. Our trained professionals provide the highest quality care for your car across a broad range of maintenance and repair needs, including:
Routine maintenance:

Getting your car into a service station for regular checkups is an important part of car maintenance. Routine work allows professionals to identify any areas for concern in order to keep your car operating at its best. This proactive approach helps to keep you safer and lowers the cost of your repair bills in the future by preventing problems from spreading and becoming more costly.

Oil changes:

Just like regular checkups are a cost-effective way to care for your car, oil changes at the prescribed mileage intervals are also important ways to stay safe and save money. The experts at our service station can provide you with an oil change when your engine needs it and will let you know at what mileage you need to bring it back in for its next change. This makes it easy to keep your car working its best by protecting your engine from the damage of normal wear and tear.

Brake repair and replacement:

Your car's braking system is one of its most important safety features. Brake problems reduce your ability to stop in emergencies or effectively regulate your speed on the road. If you notice your brakes making unusual noises or performing below expected levels, it's time to visit our brake repair specialists so that they can get your brakes operating at their best again to keep you and others safe.

Tire care:

Tire maintenance is another critical area of safety on the road. From changing out tires before they reach critical levels of wear to performing routine tire rotations to extend the life span and effectiveness of your tires, the service professionals at Tameron Chrysler Dodge Jeep Ram Fiat's service center are here to help you.

Transmissions:

Your car's transmission regulates the power the engine delivers and is a critical component in the vehicle's normal operation. It's important to turn to a service center you can trust to provide premium care if your vehicle needs transmission repair. This ensures that the job is done right and that your car, truck, or SUV continues to operate at its best to provide you with the best possible driving experience.

Alignment:

If your car is beginning to pull to one side or jerk when you drive it, this is likely a sign that your wheels are out of alignment. Our service professionals are experts at alignment services and can help you get your vehicle's wheels realigned. Not only does this make your drives in the future more enjoyable because your car is no longer fighting you, but it's also safer by giving you more control every time you get behind the wheel.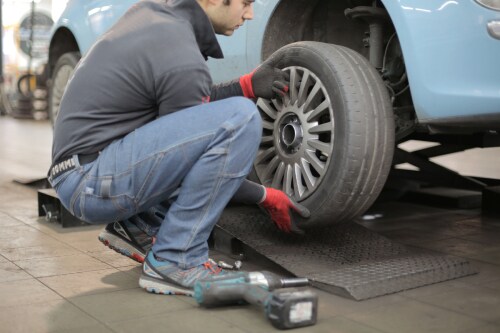 The Importance of Expert Car Servicing
When you own a car, choosing which car service professionals to trust is one of the most important decisions you can make. It's important to find a service provider that offers dependable work every time. There are many benefits to choosing an elite service center to care for your vehicle, including:
High-quality work:

Choosing the right service center for your car repairs means you get high-quality work that you can rely on. The service professionals at Tameron Chrysler Dodge Jeep Ram Fiat have built their reputation on providing customers with repair work they love and that withstands the test of time. This dedication can provide you with the confidence of knowing that when you drop your car off for work with us, your problem will be fixed right the first time.

Minimizing costs:

Getting premium service doesn't have to mean paying premium prices. The service professionals at Tameron Chrysler Dodge Jeep Ram Fiat don't just provide our customers with the best vehicle servicing around, they do so at prices that can't be beaten either. It truly provides the best of both worlds when you visit our service center.

Longer vehicle life spans:

Good work on a vehicle can also result in significant savings for you as the owner. When you receive high-quality service for your vehicle, it minimizes your exposure to problems in the future by identifying any problems early and repairing them successfully. This prevents those minor problems from having a chain reaction of damage to your vehicle, which ultimately to shortens its life span and speeds up the time to your next car purchase.

Safety on the road:

When you hand your car over to a service professional, you are also placing them in control of caring for your safety in the future. Choosing service professionals you can rely on provides you with the peace of mind of knowing that your repairs are done right and that your vehicle will operate at its best when it leaves the service center. There's nothing more important than your safety on the road, and choosing the right service center for your repairs plays a crucial part in maintaining it.
If you have a car, truck, or SUV in need of servicing, let the experts at Tameron Chrysler Dodge Jeep Ram Fiat service center take a look. Get in touch with us today to schedule an appointment so our qualified staff can provide you with the premium auto care they are known for. For the best auto service in Daphne, Alabama, there's simply nowhere better.     
Man Changing a Car Tire by Andrea Piacquadio | Licensed by Pexels