Daphne, Alabama, is packed with places that you can enjoy with your family members and friends free of charge. Whether you prefer a walk through a preserve, waterfront relaxation, or artful immersion, Daphne has something for you. Here are some of the best free attractions in the area.
The American Sport Art Museum and Archives
The American Sport Art Museum and Archives (ASAMA) is one of the most expansive, comprehensive collections of sports-related art in the world. You can see welded metal football players, cast bronze statues of Olympian athletes, and a variety of abstract human forms in athletic motion. The artists showcased at the ASAMA are from Singapore, Croatia, Australia, England, France, China, Russia, Holland, Argentina, Hungary, Greece, and many other nations.
The ASAMA does more than just showcase artwork. It also encourages competition through yearly art and sports awards for the best athletes, teams, and games of each year. There's an award for Sports Artist of the Year, Team of the Year, and Alumni of the Year. There are also several versions of Distinguished Service, Outstanding Athlete, Honorary Doctorate, Medallion, and other commendations. These awards are mostly for academic and artistic achievement, but humanitarian and media-related activities are also celebrated. The ASAMA is open on weekdays from 9 a.m. to 4 p.m.
Gator Boardwalk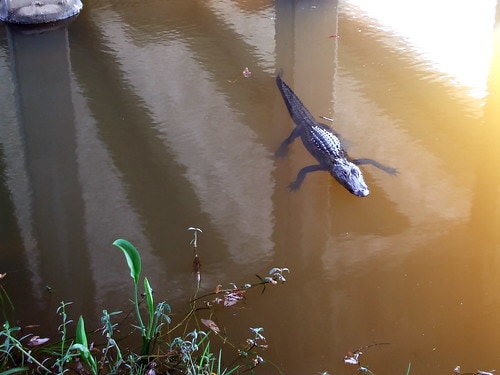 ?
Image via Flickr by alwright1
Animal lover Wes Moore opened the Gator Boardwalk in 2004, and it's one of the most exciting experiences in Daphne. The preserve for alligators whose habitats have been threatened or destroyed is now a recreational site that includes their natural habitat, and visitors can explore on elevated platforms that are far above the reach of the gators. It's a safe activity for kids and adults, and the Gator Boardwalk has nearly 500 alligators. You're unlikely to find a larger concentration.
The alligators range in size and age from hatchlings to beasts more than 6 feet long. Visitors can feed and hold baby alligators under staff supervision. Ospreys, turtles, owls, bullfrogs, and many other forms of wildlife also call the preserve home. The composition of the bird population at the boardwalk changes throughout the year, so you can visit repeatedly to see a range of beautiful creatures along with the alligators.
The Gator Boardwalk is open every day, so you and your family members can head over whenever you find the time. This place is open from dawn to dusk, and it's wheelchair-accessible.
May Day Park
May Day Park is one of the most popular places for sports, recreation, and festivities in Daphne. It was founded in 1887, and it's shaded by a bunch of scenic oak trees. This park has grown a great deal over the years and has restrooms, a bandstand, a beach, free boat launch areas, picnic tables, a playground, a pier, and a handicapped-accessible boardwalk.
Parking is free at this wonderfully relaxing park. The spaces are numerous, so you won't have a hard time finding a spot. You can bring your family and friends, relax on the beach, and have a picnic. If you have some musical talents, you can sign your band up for a public performance.
Pets are welcome at May Day Park, and pier fishing is particularly popular. You can also often see board gaming tables set up near the pier for public use. If you're looking for a romantic spot to end a date night, think about visiting the beach at sunset. The view over the water is spectacular.
The Daphne History Museum
The Daphne History Museum was formerly the Daphne Methodist Church, which was originally constructed in the 1840s. It's packed with items from the lives of Daphne residents who lived as far back as the city's founding in 1927, when the town only had 500 residents.
The museum building is the oldest church of its kind on the eastern shore. It sits on a high bluff overlooking Mobile Bay, and it's an excellent place to pack a lunch and enjoy a picnic along with a view. The museum's permanent collection includes many wicker items, a large collection of dolls and figures, showcases of many athletes, artistic award winners, and academic champions. You can also see furniture and clothing from across the decades.
One of the most interesting features of the Daphne Museum of History is its graveyard. It's filled with a variety of carved tombstones, tombs, and sarcophagi, and it's the final resting place of some of the most notable, and in some cases, mysterious, citizens of Daphne. Some of the more interesting exhibits in and around the building include the oldest grave, dug in 1847. There's also a church bell lined with silver dollars donated by residents after it was commissioned.
The Malbis Plantation Greek Orthodox Church
There are lots of churches in Alabama, but only six of them are Orthodox. The Malbis Plantation Greek Orthodox Church, formerly called the Patriarchal and Stavropegial Monastery of the Presentation of Theotokos, is one of the most artistically and architecturally beautiful locations in the Daphne area. Its interior is covered in the Iconic style, which is extremely rare in the South.
This style depicts many figures from Christian history in gorgeous, multicolored, and gold-inlaid paintings, mosaics, and statues. The church's stained glass windows are beautiful and informative, and they depict a variety of famous scenes from the Bible and Orthodox history.
The altar area is a masterpiece of Iconic artwork. It's meant to resemble the gate to heaven, and it depicts angels and Bible figures in gold all over it. A series of 12 paintings on the life of Jesus crowns it, and there's also a painting of The Last Supper. The Malbis Plantation, where the church sits, covers 150 acres. Greek Americans grew a wide range of crops there for many years, but the entire area is a historical site today.
In Daphne, Alabama, there are plenty of interesting places you can visit for free. Did we miss any of your favorite places? Contact us at Tameron Chrysler Dodge Jeep Ram Fiat and let us know where you enjoy going most.