There's nothing better than a hearty breakfast to get your day started right. In and around the Daphne area, you'll find several spots that serve up delicious breakfast food, whether you're looking for a big hearty meal or something light. From small cafes to coffee shops and more, here's a look at some of the best breakfast spots in Daphne.
The Sugar Kettle Cafe
The Sugar Kettle Cafe specializes in southern home cooking. It first opened in 2009 as a hobby for the owner, Michelle, and even after all these years, she still loves whipping up her southern cooking with a modern flair for all her customers. The atmosphere is welcoming and comfortable, and the service is excellent.
The Sugar Kettle Cafe's menu offers a variety of breakfast items, including the classic country breakfast that comes with eggs, a biscuit, a choice of meat, and grits cooked and seasoned perfectly. The house-made jams and jellies are worth the trip to the Sugar Kettle Cafe alone. You can get apple butter, strawberry jam, and other seasonal flavors. These spread perfectly over the homemade biscuit.
The chicken and waffles dish is always a good choice at this local restaurant. It comes with seasoned and breaded chicken tenders on a homemade Belgium waffle and is served with homemade bacon onion jam. It also has whipped cream to top it all off.
East Shore Cafe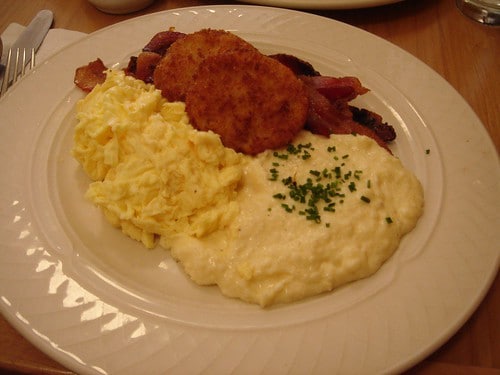 Image via Flickr by 10 Corso Como licensed by CC BY 2.0
Start your day at East Shore Cafe. This local eatery serves up made-to-order omelets, French toast, and amazing grits. The chef makes delicious quiche too. The type of quiche changes each day, but you know it will have a beautifully flaky crust and come filled with delicious meat, eggs, and veggies. One of the popular quiches you might find is the bacon, Swiss, tomato, and spinach.
The menu features some breakfast specialties, such as the cottage sandwich. It has scrambled egg, a choice of meat, and melted cheese on a grilled croissant. There's also biscuits and gravy and the cafe plate, which has two eggs, fresh fruit, toast, bacon, and grits.
Honeybun Donuts and Kolaches
If you like to get your day off to a sweet start, stop by Honeybun Donuts and Kolaches in Spanish Fort, Alabama. This locally owned and operated shop has delicious donuts for a sweet treat, and this place also has great breakfast sandwiches, breakfast burritos, and croissants. You can get a croissant filled with your choice of ham, bacon, or sausage, along with egg and cheese. Make sure to try a Kolache. You can choose from Conecuh sausage, smoked sausage, or Jalapeno sausage, and no matter which one you have, it will be delicious. They also have some of the best apple fritters in the area, so make sure you give one a try when you stop by.
Boudreaux's Cajun Grill
Boudreaux's Cajun Grill sits on Mobile Bay, offering beautiful views while you eat. They serve brunch on Sunday, and although it gets busy, the food is worth the wait. The menu features Cajun omelets such as the Shrimp Creole with shrimp, mushrooms, and a Creole tomato sauce or the Crab Madeleine with lump crab, spinach, and Monterey jack cheese.
The bananas foster French toast at this place is one of the house specialties, along with the Boudreaux's Benedict. This dish has a unique take on the traditional eggs Benedict. It comes with two fried boudin cakes, which come topped with poached eggs, the cajun hollandaise sauce, and gouda cheese. They serve it with grits and Conecuh bacon. It's a must if you want a delicious breakfast.
Soul Caffeine
Soul Caffeine serves up delicious coffee and coffee drinks, and they also have some breakfast items. Stop by for an Americano, latte, or cortado to get your caffeine fix, and you can get a bacon, egg, and smoked gouda breakfast sandwich on a bagel to go with it. They also serve their breakfast sandwiches with goat cheese, and you can choose sausage instead of bacon. In addition to the meat-filled sandwiches, you can get muffins, Danish, and a delicious egg, goat cheese, and basil pesto sandwich.
The Coffee Loft
If you are in the Fairhope area, stop by The Coffee Loft for your coffee and breakfast. This coffee shop has all your favorite coffee and tea drinks, including hot and iced coffee, Americano, Breve, and espresso. Their menu has delicious flavor combinations, such as the French Kiss with amaretto and vanilla or the Muddy Rose with raspberry and dark chocolate.
The food options change from day to day, but you can always count on a delicious quiche and a homemade breakfast casserole. They also serve hummus bagels, a ham, egg, and cheese breakfast sandwich on a bagel, granola and yogurt, and bagels with cream cheese or butter.
Julwin's Restaurant
Julwin's Restaurant in Fairhope has been serving country cooking to residents and visitors in Baldwin County since 1945. You can get all your breakfast favorites here, from eggs to pancakes and more. The French Toast breakfast has two eggs, two pieces of French toast, and two pieces of bacon, and the pancake breakfast is the same thing but with pancakes instead of French toast.
The shrimp and grits is always a good choice at Julwin's, and the Pelican's Nest comes with two eggs in the center of Texas toast and then served with grits or hashbrowns and bacon. The menu features local favorites, such as pork chop and eggs, corned beef and eggs, and the breakfast burrito. This has thee eggs, hashbrowns, and cheese wrapped in a soft flour tortilla, and you can add veggies if you want.
The omelet menu has a variety of specialties, but you can also make your own. They come with three eggs, a choice of meat, veggies, and cheese, and are served with hashbrowns or grits and a choice of toast or biscuit.
Do you know of any other breakfast cafes or eateries in Daphne that we missed? Stop by Tameron Chrysler Dodge Jeep Ram and tell us about it. While you're here, you can take a look at our inventory of used and new Dodge, Jeep, and Ram vehicles and find your next ride.