Great barbecue is all about the low and slow cooking method, but every BBQ place has its own recipe for rub and sauce, and some just do it better than others. When you crave good barbecue and live or work in the Daphne, Alabama, area, you have several choices. Here's a list of the places you should check out when it's time for barbecue.
Small's Smokehouse
Small's Smokehouse at 2305 Highway 98 serves some of the best brisket you can get in the area. Their goal is to provide the best barbecue possible at an affordable price, and they do an excellent job. You also want to make sure to try the rib sandwich and get the side of smoked mac and cheese. Both are delicious.
Small's menu also has a variety of sandwiches. You can get one with a choice of pork, chicken, ribs, brisket, or turkey. If you're really hungry, the sack of five sandwiches or the sack of five jumbo sandwiches will feed you and your friends. The plates are always a good choice. They come with two sides and Texas toast, and you can choose from pulled or chopped pork, smoked chicken, ribs, chopped or sliced brisket, and chopped or sliced turkey. If you want to get enough for the whole family, choose the family feast. Choose the meat you want, and it comes with two large sides, eight ounces of sauce, and four buns.
Small's Smokehouse also offers catering. Just give them a call to find out more.
TexarBama Barbecue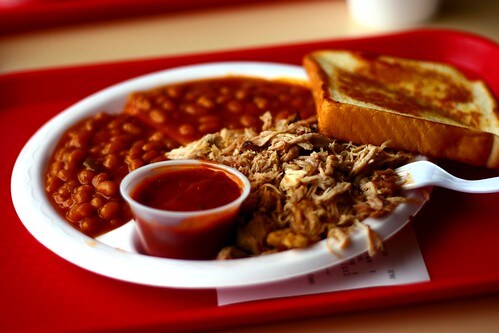 ?
Image via Flickr under CC BY 2.0 by LRD615
TexarBama Barbecue in nearby Fairhope has great barbecue with lots of options. Choose from plates and platters of brisket, pulled pork, smoked turkey breast, and smoked chicken. Platters come with lots of meat, loaf bread, pickles, and onions. If you like ribs, make sure to try a full or half rack, or, if you have a smaller appetite, you can get one of the sandwiches. Choose from the Gutbuster with Texas caviar topped with Texas red BBQ sauce, and then brisket, pulled pork, and brisket sausage. It's all topped with pickled red onions, pickled jalapeño, and cilantro and served on a brioche bun.
The Hawaiian pork sandwich has pulled pork covered in the signature Hawaiian teriyaki sauce and topped with grilled pineapple.
Get your BBQ with a twist at TexarBama Barbecue and get one of the tacos. The street-style tacos have a choice of brisket, pork, or chicken with onion, cilantro, and lime on a corn tortilla. There's also the El Gourdo with a choice of brisket, pork, chicken, or turkey topped with honey jalapeño lime slaw, Texas caviar, guacamole, cilantro, and cotija cheese.
Porterhouse BBQ
You'll find the Porterhouse BBQ food truck in Fairhope, but it also comes to Daphne. The menu features a delicious pulled pork sandwich with bourbon glaze and barbecue sauce on a bun with pickles, and the beef brisket sandwich with sliced brisket and barbecue sauce on a bun with pickles.
You can also get your pulled pork on top of nachos. These come with cheese, scallions, bacon, sour cream, jalapeños, and barbecue sauce, or get the nachos with chopped beef brisket. If you can't decide between the two different meats, you can even get both.
Customers love Porterhouse BBQ's ribs and the smoked chicken. The portions are always large and come with sides such as homemade potato salad and coleslaw.
Since Porterhouse is a food truck, you can even give them a call, and they will come to your neighborhood. Do you have a block party going on or a busy business with hungry employees? Just contact them and schedule a day and time. They just need to know your name, the date, time, location, and the number of people they need to feed.
Moe's Original BBQ
Make sure to check out Moe's Original BBQ. This place serves up original Alabama BBQ in a relaxed setting with lots of options. You can start with Moe nachos that come with house-fried chips topped with baked beans, pulled smoked pork or chicken, and then nacho cheese, red onion, some homemade pickled jalapeños, and BBQ and white sauce, or start with the marinated and smoked chicken wings.
The platters are hearty meals and come with cornbread and two sides. There are several to choose from and include all your favorite meats from pulled pork to smoked sausage, chicken, and smoked turkey. If you like seafood, you can also get it at Moe's. The southern fried shrimp platter is always a good choice, or try the southern fried catfish. It's a seven-ounce Alabama farm-raised, fried catfish fillet that comes with the homemade tartar sauce.
The loaded baked tater is always a good choice for something rich and decadent. It's a large baked potato filled with BBQ sauce, cheese, beans, a choice of meat, white sauce, and then topped with sour cream and chives. Add a side and a piece of cornbread, and it's a complete meal.
Since most meals come with a choice of sides, Moe's makes sure they are good. Choose from marinated slaw, mac and cheese, house-fried chips, baked beans, and potato salad.
When you want to feed the family, you can even bring Moe's home. The Double Wide Pack feeds up to four people, and the Triple Wide Pack feeds up to six. These come with pork, Conecuh sausage, chicken or turkey, two or three pints of sides, six pieces of either cornbread or buns, sauce, and pickles.
You'll need reliable transportation to get you to and from these Daphne barbecue spots, and at Tameron Chrysler Dodge Jeep Ram Fiat, we have new and used vehicles that you can count on. Give us a call to chat with one of our sales staff, or just stop by the dealership to take a walk around the lot. You can find your next new or pre-owned Dodge truck or Jeep to get you around town and outside of Daphne if you want to take a road trip to discover new BBQ spots.