If your weekends have you testing your off-road skills in the Gulf Coast dunes or conquering the trails along the Mobile River, you probably have a quality four-wheel-drive vehicle like the Dodge Ram or Jeep Gladiator. If not, Tameron Chrysler Dodge Jeep Ram Fiat has an expansive inventory of off-road vehicles ready for your next adventure.
Let's go on the assumption you already have a truck ready to take on the backcountry. If so, every off-road warrior should have some essential tools and accessories to assist them when the going gets tough. That's why we've created this list of six must-haves for every off-road enthusiast to make sure you can recover from those moments where the trail appears to win.
Tire Deflation Kits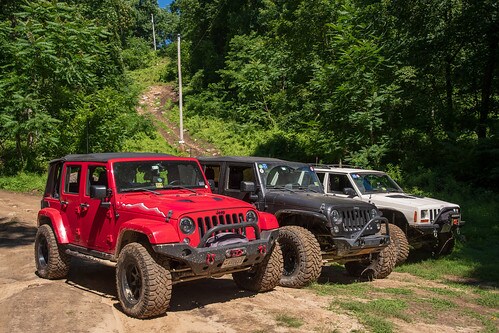 ?
Image via Flickr under CC BY 2.0 by wvugee
You won't always need another truck to tug you out of a sticky situation. Not if you have automatic tire deflators. Sometimes, deflating your tires can do the job just fine. Experts say that dropping your tire pressure as little as 30% can boost your traction by 250%. That's because lowering your tire pressure allows your tires to rise above the sand, mud, and snow. Lower air in your tires also lets your tires conform around rocks and other obstacles, expanding the surface area of your tires' tread, improving traction.
It takes time and gets messy quickly if you don't have automatic tire deflators like the Staun Tyre Deflators. A set of four costs around $80, and you can adjust them to a specific psi before you put them on. Then, when you need them, screw them onto your valve stems, and they automatically lower your tires' pressure to the preset psi.
Recovery Tools
Serious off-road enthusiasts agree that getting stuck not only comes with the territory, it's half the fun. It isn't a question of if it happens, but when. So, when it happens to you, you need the proper recovery tools to get you unstuck. If your truck sinks into a mud bog burying the axle, nothing beats a winch. You can find a winch to fit your Jeep or Ram truck for less than $1,000 that's rated to pull up to 12,000 pounds. If you have a smaller 4x4, you can find deals as low as $300 that can get the job done. Just make sure you have the proper weight rating and cables. A tree saver and a snatch block should be in your tool kit as well.
If you love cruising the dunes, you won't find many trees or rocks to hook to when you get stuck. In that case, an earth anchor such as the Deadman Off-Road Earth Anchor and a quality shovel can help. When you have no trees, you bury the durable vinyl tarp in the sand or dirt and let your winch do the rest. You should always have a recovery strap and bow shackles to allow another truck to haul you out of trouble no matter where you are off-road. Winches can break or malfunction, and even angles can get tricky to make winching impossible.
Portable Air Compressor
Lowering the pressure in your tires gets you over or through some challenging obstacles, but sooner rather than later, you'll need to inflate your tires. You can find a basic portable air compressor that operates using the 12-volt connection inside your truck for well under $100. In a pinch, they work, but they do take time. Using a cheap air compressor saves you money, but in some instances, it can take over an hour to re-inflate your tires.
For faster results, we suggest getting a compressor that attaches directly to your truck's battery like jumper cables. You can find one like the Viair 400P that adds 15 psi in less than three minutes. This type of compressor works excellent for those off-road excursions where the terrain changes often. Deflate quickly with the Staun to get through soft ground, inflate with Viair and get rolling fast.
Quality Truck Jack and Patch Kit
Tires puncture during off-road excursions due to the rugged terrain. Sometimes, you can patch the hole, and other times you have to change the tire. Hi-Lift jacks get most of the love from off-road enthusiasts, but in some situations, they get unsteady. We suggest going with the far less cumbersome Powerbuilt Unijack priced under $100. The Unijack combines a bottle jack and jack stand, which provides stability in a wide base. This stability helps on soft surfaces. Also, it comes with a safety bar that prevents it from lowering after setting. Because it's small to begin with, it stores nicely as a jack for any situation.
Jump Starter
Today, car owners include a portable jump starter in their trunks. These jump starters replace the need for bulky jumper cables and another vehicle to provide electricity. So, if you haven't added one to your off-road emergency tool kit yet, stop waiting. Your truck's battery can die while you shop at the grocery store, which can cause frustration and delay. Imagine your battery dying, miles into the woods, and you're alone?
You can find a basic portable jump starter for around $50. We suggest spending a little more on one with additional features such as a flashlight and charging ports for cellphones. Higher-end models can jump as many as 30 times on a single charge. So, for less than $200, you can get a premium jump starter that will work when you need it.
Brush Guards, Skid Plates, and Rock Rails
Your off-road excursions will take you through woods, over logs and rocks, and through rivers. Protect your truck's body and undercarriage with good skid plates, rock rails, and a brush guard. Skid plates protect your drivetrain as you clamber over rocks and logs. Brush guards help protect your front end as you plow ahead through tall grass, brush, and anything else in your way. Finally, rock rails keep your frame from bottoming out between the axles. In addition, these upgrades make your truck look the part.
At Tameron Chrysler Dodge Jeep Ram Fiat, we know what the off-road warrior needs in a truck. That's why our inventory includes so many 4x4 Jeep and Ram vehicles ready to handle your adventurous life. Also, we have an extensive inventory of off-road accessories designed to fit your truck and work great. If you're ready to elevate your off-road adventures with a new 4x4, we invite you to browse our inventory online. If you have questions about accessories, our parts department technicians have the training and knowledge to outfit your truck correctly.