The Jeep brand has a reputation for producing tough vehicles that can go over any terrain. The Jeep Wrangler is the original SUV, and the current lineup consists of several different sized utility vehicles. Jeep vehicles also have a reputation for reliability. They will provide drivers and families with many years of reliable service if properly maintained and taken care of according to the recommended service schedule set by Jeep. Jeep makes this easy by providing several tools to help owners stay up with the maintenance.
The Oil Change Indicator
Newer Jeeps have an automatic oil change indicator system that will provide an alert when it's time to change the oil. The indicator might light up in as little as 3,500 miles, or in some cases, at 10,000 miles. The system uses smart technology to monitor the oil life and adapts to your driving habits to determine when the oil needs changing. Since certain driving conditions can affect the life of the oil, the system keeps track of this in addition to the mileage.
For example, if you take many short trips, tow a trailer, or frequently drive through extremely hot or cold temperatures, the engine oil will become dirty sooner than if you drive mostly highway miles in moderate temperatures.
Combining the automatic oil change indicator with regularly scheduled service in 10,000-mile intervals will keep your Jeep running smoothly for many years. Each 10,000-mile interval has specific systems and components that need an inspection and possible replacement.
What Is the Maintenance Guide?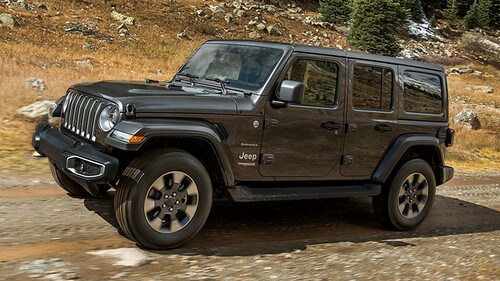 ?
Image via Flickr under CC BY 2.0 by www.wbayer.com - www.facebook.com/wbayer.com
Every Jeep vehicle has an owner's manual with the recommended maintenance schedule. Specialized vehicles such as the Jeep Wrangler and other off-road models in the Jeep lineup are slightly different from the average car or truck, but the guide will tell you what's needed. The maintenance schedule is right in the manual.
Take a look at some of the common maintenance intervals and services.
Once A Month or Before You Take a Trip
Check engine oil level.

Check all fluid levels, including windshield washer fluid, brake fluid, power steering fluid, and coolant.

Check all lights, including interior and exterior.

Check and replace oil filter, inspect exhaust, brake pads, and battery terminals.

Check wear and tear of tires and rotate if necessary.
At 20,000 Miles or Two Years
After driving a Jeep for two years, Daphne drivers should schedule their next maintenance check. During this service, the technicians will:
Inspect universal joints.

Inspect the front suspension and tie rod ends.

Inspect the front and rear axle fluid.

Inspect the brake linings.

Replace the cabin and air conditioning filters.
At 30,000 Miles or Every Three Years
Additional components should be checked and changed after you've driven for three years or when you hit 30,000 miles. These include:
Change the oil and replace the engine oil filter.

Rotate the tires.

Inspect the engine air cleaner filter if you drive your Jeep over dusty roads or take it on off-road excursions. Replace if necessary.

Check the brake linings and replace if needed.

Inspect CV joints.

Inspect the exhaust system.

Replace the air conditioning filter if needed.

Inspect the front suspension. This includes the tie rod ends along with the boot seals. Check for cracks, leaks, and inspect for any damage, wear and tear, or looseness.

Change the manual transmission oil if you use your Jeep to tow a trailer on a regular basis, carry heavy loads, travel over off-road terrain, or drive in the desert heat.
At 40,000 Miles or Every Four Years
When your Jeep hits 40,000 miles, or you've been driving it for four years, schedule your next maintenance check. At this point, the technicians will inspect all of the same components that they checked last year and take a look at several others. They will also:
Replace the spark plugs.

Adjust the parking brake for vehicles with four-wheel disc brakes.

Replace the rear drive assembly fluid.

Replace the power transfer unit fluid.

Change the automatic transmission filter and fluid if the Jeep frequently tows.

Inspect front suspension components.

Rotate the tires if needed.
At 60,000 Miles or Every Six Years
At six years or when you hit 60,000 miles, the technician will check all the same things as in the previous inspections. At this point, it is also important to have the transfer case fluid changed, especially if you head off-road on a regular basis or use your Jeep to tow. The manual and automatic transmission fluids should also be changed.
At 100,000 miles
The 100,000-mile service usually includes changing the oil and the oil filter. The technician will also:
Rotate the tires.

Perform a safety inspection.

Inspect the brakes, hoses, and belts.

Check for any fluid leaks.

Listen for any unusual noises.
When your Jeep hits 100,000 miles, no matter how many years you've had it for, it will start to see some wear and tear on components such as the drive belts, motor mounts, and suspension bushings. If any of these items show signs of wear, it is important to have them fixed right away so they don't become a more significant problem.
At 120,000 Miles
Make sure you continue to bring your Jeep in for regular maintenance even when it has high mileage. At 120,000 miles, the service usually includes:
Replacing the automatic transmission fluid, engine coolant, and differential fluid.

Check the timing belt and replace it if necessary.

Replace spark plugs.

Change engine oil and oil filter.

Rotate tires if needed.

Inspect the exhaust system.
With so many moving parts within your Jeep, it is essential that it is inspected by a professional regularly to ensure that it remains reliable and runs at its best. Whether you have a brand-new Jeep and it's time for your first regular maintenance stop, or you have an older model Jeep, and you need to continue with your regular service, you can count on Tameron Chrysler Dodge Jeep Ram Fiat.
Schedule your appointment today with our top-notch service center and experience the excellent service from our highly trained technicians.