People drive Jeep Wranglers for many reasons — their rugged good looks, versatility, durability, and adaptability, just to name a few. But one of the best reasons to drive a Wrangler is its ability to help you make the most out of your offroading. If you plan to seek adventure near Daphne, Alabama, or elsewhere, you should outfit your 2021 Jeep Wrangler with options that are designed to enhance your offroading experience.
There are many vehicle models that their makers claim to be offroading ready, but the Jeep Wrangler is specifically designed to be an off-road beast. Since 1986, Jeep Wranglers have been hitting the trail, whether it's covered by gravel, snow, dirt, or mud. So, what makes the Jeep Wrangler so special?
Rugged Looks
The Jeep Wrangler was inspired by its military predecessor, the WWII-era General Purpose vehicle — abbreviated as GP. These vehicles had 4x4 drivetrains and a sturdy build despite a lightweight design. Today's Wranglers have evolved to be more comfortable and technologically advanced, but are still just as rugged and unstoppable as their ancestors. The boxy, iconic look lets everyone know that the driver is free-spirited and adventurous.
When driving a Wrangler, not only can you go off-road, you can also look great while doing it. The Wrangler is the only vehicle that allows you to remove the top and the doors, allowing for an exciting open-air experience while exploring the great outdoors. For more protection and style while you drive the trails, you can invest in a variety of door alternatives such as half doors or tube doors that provide safety while not restricting the flow of fresh air.
Trail Rated Certification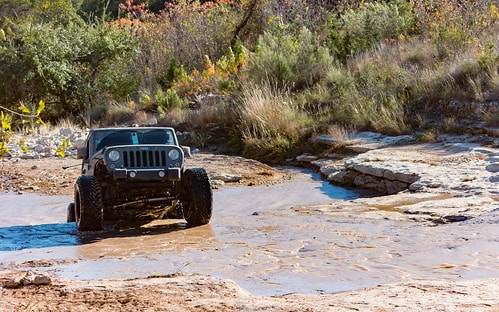 ?
Image via Flickr under CC BY 2.0 by Nan Palmero
All Jeep Wranglers, from the basic Unlimited Sport 4x4 onward, are certified Trail Rated and come with a badge to prove it. Here's why:
Unbeatable traction: The 4x4 all-wheel drive combined with low gears and all-terrain tires let you take a trip to almost anywhere you desire.

Short wheelbase: This gives the Wrangler excellent maneuverability, so it's easy to steer around obstacles or sharp turns.

Ground clearance: With its large tires and rugged suspension, extra ground clearance lets you drive over obstacles and even through shallow water without getting stuck or damaging the vehicle.

Articulation: When the Wrangler encounters an obstacle or uneven terrain, the flexible suspension ensures that the wheels remain in contact with the ground and provide great traction and stability.

Water resistance: The Wrangler's electronic components are protected, so it can safely drive through water up to 20 inches deep without damaging the vehicle.
Jeep Wrangler Sport
The base trim, the Sport, offers 8.4 - inch ground clearance with its heavy-duty, all-season 17-inch wheels. Jeep offers the choice of a six-speed manual transmission, appreciated by many off-road enthusiasts, or an eight-speed automatic. You can also customize your Sport with your choice of top, including a hardtop, solid sunbonnet top, mesh sunbonnet top, or flip-top, which allows the hardtop to have a sunroof.
Jeep Wrangler Sahara
Upgrading to the Sahara trim offers a few extras that improve the Wrangler's offroading capability. Along with more colors to choose from, a more comfortable interior, and a better sound system, the Sahara has larger wheels, 18 inches compared to the base model's 17-inch wheels. This gives it an additional 1.3 inches of ground clearance.
Jeep Wrangler Rubicon
This trim offers the ultimate offroading capability. Although it has 17-inch wheels, you can select upgraded tires, including off-road, mud-terrain, and all-terrain options. When you build the Rubicon, you can order a variety of door styles and hinge reinforcements instead of adding them as aftermarket upgrades. Rock slider running boards protect the vehicle by allowing it to "slide" off obstacles instead of letting them cause scratches and other damage. Additional top styles are available, and the trim comes with Corning Gorilla Glass to protect passengers if the terrain gets a little too rough.
Xtreme Recon 35-Inch Tire Package
The Rubicon trim offers an option to add the Xtreme Recon 35-inch Tire Package. This gives your Wrangler a 35-inch tire suspension for serious ground clearance. The package includes a third-generation heavy-duty Dana 44 front axle, along with a 4.56 rear axle ratio, to improve acceleration and efficiency on steep terrain or if you're pulling a trailer.
Radio and Premium Audio Package
Upper trims, including the Unlimited Sport S, Unlimited Sport Altitude, Sahara, Willys, Rubicon, and High Altitude, offer the 8.4-inch Radio and Premium Audio Group. It's fun to listen to your favorite tunes on the Alpine premium audio system and control your vehicle's technology with voice commands through the UConnect 4 system. Offroaders will appreciate the GPS navigation, off-road info pages, and emergency/assistance call capability. Nobody wants to get into that offroading adventure only to find out they're lost, not to mention that you never know when emergency help might be necessary.
Tow Package
All Jeep Wrangler trims offer an optional tow package. You might not think of towing as an off-road specialty, but when you're not challenging your driving skills by scrambling up rocky hills, through shallow streams, or around muddy curves, there are other ways to seek adventure. Bring along a camper to spend the night near your off-road trails, a trailer hauling ATVs for even more offroading fun, or a boat to extend your adventure into the water.
The Jeep Wrangler's Tow Package includes a 240-amp alternator, 700-amp maintenance-free battery, auxiliary switches, a seven- and four-pin wiring harness, and a Class II receiver hitch. So, how much can the Wrangler tow? The base trim is capable of pulling up to 2,000 pounds. The Sahara, Rubicon, and Unlimited High Altitude trims can pull up to 3,500 pounds. In addition to tow capacity, the payload capacity is between 900 and 1,200 pounds, depending on the configuration.
Because of its customization options, along with good looks and heavy-duty, rugged construction, the Jeep Wrangler is the ultimate offroading vehicle. Whether you need extra ground clearance, specialty doors and roof coverings for fresh-air fun, towing capability, or a little help finding your way back home again, Jeep makes every adventure extraordinary. Check out the inventory at Tameron Chrysler Dodge Jeep Ram Fiat and find the perfect Wrangler for you.