When it comes to legendary, iconic automobiles, the Jeep is one of the pack's leaders. With its rugged good looks and robust engine, the Jeep is a sure show-stopper on the trails and streets. Buying a new jeep can be pretty expensive since it's generally considered the most capable off-road vehicle available on the market today. However, if you're on a tight budget, a pre-owned model is also a viable option.
Over time, nearly 30 Jeep models have been made, which means there is always plenty of used Jeeps for sale. But how does a newbie enthusiast figure out which used Jeep to buy? Well, when buying a used Jeep, you need to be very cautious, considering how punishing off-roading can be.
This comprehensive guide breaks down seven different things to look out for when considering a used Jeep.
Recall History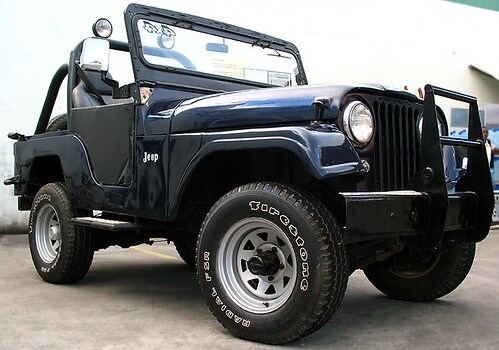 ?
Image via Flickr under CC BY 2.0 by Eduardo Pelosi
One of the first things you can do before heading to a dealership is research Jeep model recalls. If an automaker announces a recall, there was a big problem with a certain part of the vehicle. The owner might have repaired the issue, but you'll want to examine it to ensure that the proper adjustments were made. If your preferred Jeep model passes a professional inspection, you can move forward with purchasing your used Jeep.
Price
The very essence of purchasing a pre-owned Jeep is to get an inexpensive entry point into the Jeep community. You'll need to determine how much you plan to spend before you visit a dealership. A used Jeep can go for as low as $16,825, with multiple factors affecting the price.
You should find out the reasons behind the price before you consider purchasing a Jeep. One factor that can significantly affect the price of a Jeep is whether it's automatic or manual. Manual transmissions are typically cheaper. The year the used Jeep was made is also a significant indicator of price. The older the car is, the cheaper it gets.
Undercarriage
The undercarriage is one of the most important things to check on a Jeep because of its everyday use as an off-roading car. Ensure the previous owner didn't damage the undercarriage on any off-road escapades. When inspecting the undercarriage, here are some things to look out for:
Rust.

Rust is something that you don't want anywhere on your Jeep, particularly in the undercarriage.

Replacing rusted Jeep parts

is a costly endeavor and difficult to do yourself.

Exhaust.

Though the exhaust might not seem like a significant part of the undercarriage, it's. Examine the exhaust system for dents, rust, or other visible damages.

New parts.

Modifications could indicate heavy use, which may mean the car is more worn down than you think.

Scrapes, dents, and scratches.

Ensure any damage is cosmetic and not an indicator of poor care and maintenance.
A damaged undercarriage can cause a vehicle to fail its inspection. Consequently, you'll not get much use from a Jeep that isn't considered safe to drive on the roadways.
Powertrain and Transmission
After carefully examining the Jeep's undercarriage, the next thing to inspect is the mechanical state of the Jeep. Sensitive areas such as the transmission and engine should be your primary focus. Apart from recall and service records, an engine bay's cosmetic condition can indicate the overall maintenance.
A clean engine bay could signify the Jeep was well maintained. However, this shouldn't be a final determinant of the Jeep's mechanical state. When inspecting the Jeep's powertrain, it's important to listen for any unusual idling during warm-up or misfiring /stuttering while idle. Also, very loud or noticeable ticking could be a sign of a more severe problem.
Vehicle History
Before buying an automobile, it's also essential to go through the history of ownership and servicing. This might not seem like a big deal, but if the previous owner took good care of the car, then you're buying a Jeep worth the entry price.
Fortunately, most reputable dealerships will provide you with a free car history report to review. This report will list vital information, including the number of previous owners, any reported accidents, and maintenance and service history.
Tires
Although tires can be replaced, they tell you more about the Jeep's backstory. For instance, if the alloy wheels or tires are really worn, there's a possibility the rest of the car has been damaged. Also, watch out for wear around the edges of the treads, which might indicate a problem with alignment and something else that costs a lot of money to repair.
Leaks
When you poke around underneath the Jeep and come across some signs of leakage around the area it's parked, oil and coolant might be leaking. A well-maintained Jeep will not give you any signs of leakage, so thoroughly check for damage to tanks or hoses to locate any leakage signs.
Used Jeep Maintenance Tips
All vehicles need proper and routine maintenance to keep them on the road longer and running smoothly, and that's no different for Jeeps. At the top of your to-do list should be scheduling service and maintenance. Tasks you can do yourself include cleaning and caring for the interior, treating the leather to protect against cracking or fading, and keeping the tires well maintained.
Bigger jobs are best left to the professionals like Tameron Chrysler Dodge Jeep Ram Fiat. Tire rotation and replacement require specialized tools that most car owners don't generally own. The same can be said for replacing hoses, brakes, belts, or other major systems components.
We all love a good Jeep — not only because it's a rugged off-roading vehicle but also because it's a legendary classic. Whether you're driving it across dirt or the pavement, owning a Jeep is a lot of fun. Whatever your goals are with your Jeep, you'll find the quality pre-owned options you're after here at Tameron Chrysler Dodge Jeep Ram Fiat. To learn more or schedule a test drive or service, don't hesitate to contact us today. We proudly serve drivers in Daphne, Alabama area, and beyond.