If you're looking for a fun, educational day out around Daphne, Alabama, you can find plenty of places to visit. Whether you want to learn about local history, sports, or nature and other science topics, Daphne has you covered. Here are some local educational excursions you can check out, courtesy of Tameron Chrysler Dodge Jeep Ram Fiat.
The American Sport Art Museum and Archives
The American Sport Art Museum and Archives is an excellent place to visit for any sports fans, as it contains more than 1,800 pieces of sports art. The museum has paintings, sculptures, prints, photographs, and assemblages to peruse. The museum is home to what is believed to be the largest collection of sports art globally, so you'll have no shortage of things to see. You can visit the museum's website for a list of featured artists and take a virtual tour.
Admission to the museum is free. It's open Monday through Friday between 9 a.m. and 4 p.m. The museum is located at One Academy Drive in Daphne.
Old Methodist Church Museum/Daphne History Museum
Another free museum you can visit is the Old Methodist Church Museum, also known as the Daphne History Museum, which holds pieces of the history of the town. The Old Methodist Church was formerly the Daphne United Methodist Church. The church building is on the National Register of Historic Places and is the second-oldest church structure in Baldwin County.
The church, constructed in 1858, was predated by its cemetery, whose earliest recorded burial occurred in 1847. Within the church museum, you can view its permanent collection to learn more about the history of Daphne and its people, including a gallery where slaves sat to worship before the Civil War.
The museum also features examples of period clothing and historical arts and crafts, photos, a doll collection, and more, including an antique spinning wheel. The church holds its original pews and a chandelier that has been converted to use electricity.
Visit the historic church at 405 Dryer Ave. Hours are 10 a.m. to 3 p.m. Wednesdays and 1-4 p.m. Saturdays. You can also tour the church and grounds by appointment by calling 251-620-2600.
Exploreum Science Center
If you want to take a quick drive over the bay to Mobile, you can visit the Exploreum Science center. Whether you want to explore its rotating special exhibits, see what's playing in the Poarch Band of Creek Indians Digital Dome Theater, or explore the permanent exhibits, you can learn much at the science center.
If you're interested in the Dome Theater, it has many available films, including selections on space, animals, and geography. The films change often, so you should visit the website for the schedule.
The Exploreum Science Center is located at 65 Government St. in Mobile and is open Tuesday through Saturday from 10 a.m. to 4 p.m.
USS Alabama Battleship Memorial Park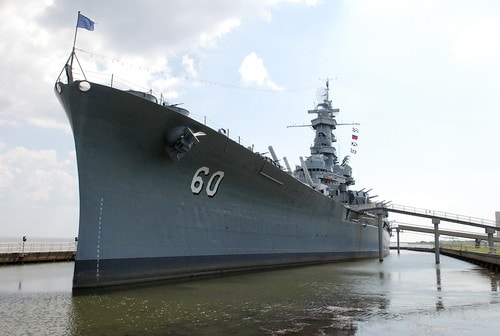 ?
Image via Flickr under CC BY 2.0 by hyku
The USS Alabama Battleship Memorial Park is a great place to go for an educational excursion. The park includes the USS Alabama battleship, an aircraft pavilion, tanks and artillery that you can explore, and the USS Drum, the oldest American submarine on public display.
The USS Alabama was built in 1940. This battleship spent its time in the North Atlantic and South Pacific during World War II and is now a National Historic Landmark within the memorial park. In addition to being able to tour both the USS Alabama and the USS Drum, visitors can also see more than 28 aircraft at the World War I exhibit. Other aircraft in the Medal of Honor Aircraft Pavilion are dedicated to Alabama's Medal of Honor recipients.
The park also houses a variety of tanks and artillery that you can explore, representing all United States Armed Forces branches, including tanks from World War II, the Korean War, and the Vietnam War.
The USS Alabama Battleship Memorial Park is located at 27030 Battleship Parkway in Mobile. It's open daily from 8 a.m. to 5 p.m. General admission varies depending on ages, and the park offers discounts for active-duty military and veterans.
Environmental Studies Center
At the Environmental Studies Center in Mobile, visitors can learn about natural sciences and wildlife rehabilitation. This education excursion has more than 500 acres of rich woodlands and is an excellent place to experience the natural environment of Alabama. The facility is home to many natural resources, including pine and bay forests, freshwater streams, a carnivorous plant bog, swamps, and a lake.
Some of the live exhibits at the Environmental Studies Center are a butterfly garden, a native plant garden, and animal exhibits. Animals you can learn about include raccoons, water birds, turtles, alligators, deer, hawks, vultures, and owls. The animal exhibits are located throughout the Environmental Studies Center. You can also explore nature trails.
The Environmental Studies Center is located at 6101 Girby Road and is open Monday through Friday from 8 a.m. to 4 p.m. Admission is $3 per person.
Mobile Carnival Museum
Mobile's Mardi Gras is the oldest annual Carnival celebration, held first in 1703, 15 years before New Orleans was founded. At the Mobile Carnival Museum, you can learn about the rich history and the traditions of Carnival. The museum gives visitors a look at the artistry of crowns, scepters, and robes of Mardi Gras monarchs and shows the art of float construction and costume design.
You can even hop aboard a float and pretend that you're Mardi Gras royalty. Visitors will also want to look at a gallery of historical photographs that date back to 1886. The museum also has quarterly themed exhibits.
The museum is open on Monday, Wednesday, Friday, and Saturday between 9 a.m. and 4 p.m. Admission is $8 for adults, $3 for children, and $6 for military and students.
Daphne and the surrounding area are full of places where you can visit for fun and educational excursions. The history in the area is extensive, and there's a lot to learn. Where is your favorite place to go when you want to learn something new? We at Tameron Chrysler Dodge Jeep Ram Fiat would love to hear from you!